Invisalign Glendale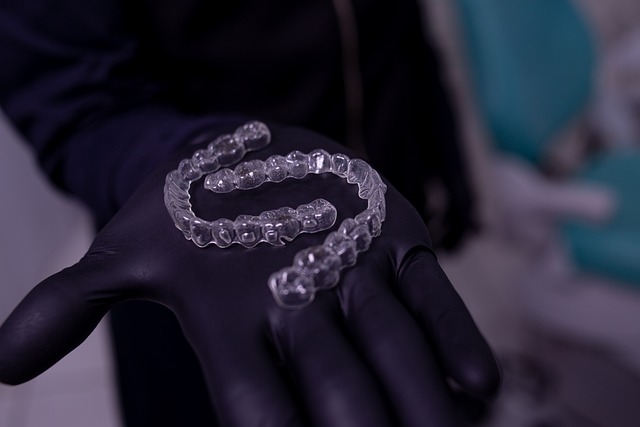 Invisalign treatment Glendale is used to correct close and uneven teeth that have large spaces between them. Modern achievements in dentistry can easily fix any abnormality of our teeth and can make our smiles beautiful, attractive, and charming. Fixed iron systems, which cause discomfort, are a thing of the past. They have been replaced by practical, removable, and almost invisible systems. Transparent design and invisibility are worthy alternatives to traditional braces.
If you are in search of a way to get straight teeth and a beautiful smile, you may think that braces are the only answer. However, the field of orthodontics has made great gains over the years and that means many more options for you. Invisalign aligners are one of the most popular approaches for orthodontic correction for patients of all ages. It's easy to understand why celebrities, teens, and adults are choosing Invisalign.
Invisalign Dentist in Glendale CA
Dr. Gurgen (George) Sahakyan is a specialist in cosmetic dentistry and is a preferred provider for Invisalign in Glendale CA. Just stop by our office or give us a quick call and get a free Invisalign consultation with Dr. Sahakyan.
What is Invisalign?
Invisalign is a modern technology for correcting various problems in the teeth with transparent removable trays. The Invisalign aligners are made of a transparent polymer and are almost invisible on the teeth. They are especially popular with adult patients, for whom aesthetics play a large role. Aligners are worn tightly wrapped around the teeth and provide the necessary correction while not affecting speech. This is very important for people whose activities are connected with intensive communication.
Indications for Using the Invisalign
The dullness of the teeth, when the incisors and fangs are too close to each other;

Large interdental spaces (thremi and diastema);

The incorrect arrangement of one particular tooth or several teeth.
Why Patients Love Invisalign
Patients love Invisalign because plastic aligners are practically invisible. People won't even know that you are undergoing treatment. You'll also find that they are more comfortable than metal wires and brackets. You can remove them while you are eating, during sporting events, or on special occasions. Otherwise, you should wear your aligners for at least 22 hours a day for optimal results. Every few weeks, your aligners will be exchanged for a new set in order to continue minute adjustments to your teeth. Invisalign treatment generally takes the same amount of time as typical braces and the cost is comparable.
Pave the Way to a Healthier Mouth
One of the greatest benefits of choosing Invisalign is being able to maintain good oral hygiene during treatment. Traditional braces make it much more difficult to floss and brush thoroughly. With Invisalign aligners, simply remove them to perform your daily oral hygiene routine. You can also soak your aligners in mouthwash in order to keep them fresh and clean. Avoid drinking beverages with dyes to avoid staining. Once treatment is concluded, you will be able to reap the benefits of a properly aligned smile. You'll find it much easier to keep your teeth clean and could stave off problems down the line such as TMJ disorders. Invisalign is an excellent option when you want to have straight teeth, but don't want the world to know you are getting treatment. Opt for Invisalign and you'll have more reasons to smile.
Stages of Invisalign Treatment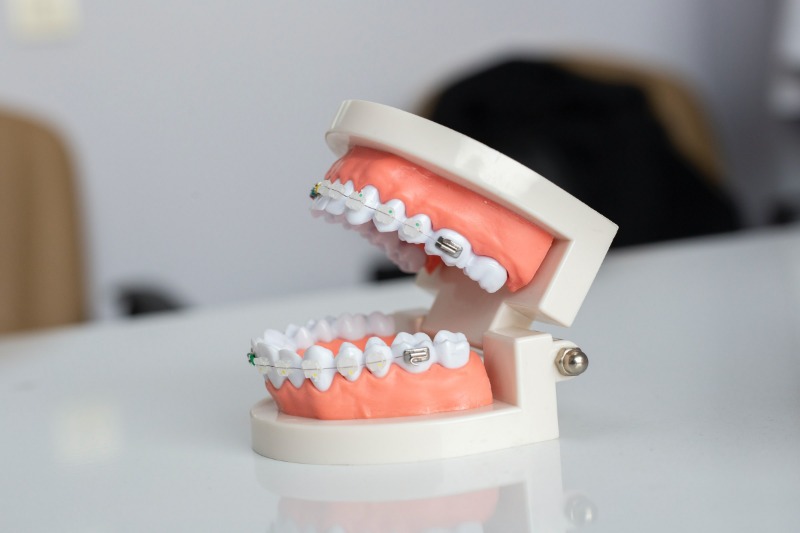 In order to avoid spending a lot of unnecessary time, the stages of treatment are as follows:
The preliminary examination, diagnosis, and identification of the degree of severity of the problem and sanitation of the oral cavity as needed.

The impression of the jaw, X-ray, and tomography, will collect the most complete data on the jaw system and bones.

Create a computer model and make changes to it if necessary.

Order for the manufacture of plates.

The arrival of structures to the address of the order, application, and consultation of the patient on their removal and carrying.
There may be a need for additional changes, such as removing additional units if the patient grinds their teeth. Such actions must be carried out if more space is required in order to place the aligners in the mouth.
Experience the Invisalign Difference
Invisalign involves using clear aligners that have been specifically tailored to your mouth. After your initial evaluation, based on physical examination and medical imagery, Dr. Sahakyan will map out your treatment plan. From that point, your custom-made aligners will be created in order to correct the alignment of your teeth. Whether you are dealing with crowding, too much space, or issues with your bite, Invisalign could work for you.
How Does Invisalign Work?
Treatment of Invisalign always has a predictable outcome. With the help of the computer program, the dentist will show you the result of the treatment even before it begins. In 3D, you will see how and at what time the teeth will move, and what your smile will look like when the treatment is complete.
Invisalign is made individually for each patient on up-to-date equipment using innovative technology with high-quality materials.
At first, the dentist conducts a three-dimensional scan of the oral cavity and a painless procedure to get an impression of the teeth.
Then, the expert, using a high-precision method, simulates the necessary efforts to move the teeth into the correct position. You can see the initial 3D picture of the current position of the teeth and an accurate portrayal of their problems. Then a treatment plan is drawn up.
Advantages of Invisalign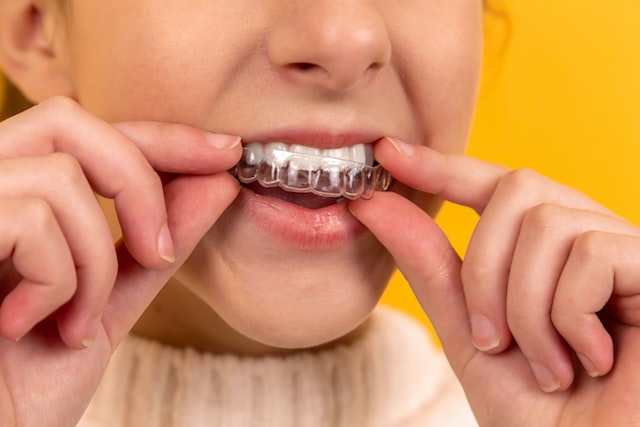 Effective
The great advantage of Invisalign technology is its effectiveness. That is, the effect of the treatment is more stable than with the use of braces. In addition, unlike braces, the correction of the bite is more sparing in relation to the enamel of the teeth. However, it is necessary to emphasize that the effectiveness of treatment depends on such factors as the qualification of the dentist, the correctness of the selected treatment, and, most importantly, the attitude of the patient to treatment.
Aesthetically Pleasing
The treatment process is convenient for patients and is imperceptible to others. It does not compromise your appearance and image. You will not feel the need to hide your smile.
Comfortable
The treatment is completely painless. If necessary, you can easily remove the mouthguards. If you are having a difference in bites or crossed teeth, then contact our specialist Dr. Sahakyan for the best treatment. Call 1-818-578-2324 for a consultation today.
Safe
Aligners do not cause irritation of the mucous membrane, since they are made individually for you with computer precision. They also do not have sharp metal edges nor do they cause allergies.
Hygienic
It preserves the health of teeth and gums, without interfering with hygienic procedures (tooth cleaning, flossing).
Rules of Wearing Invisible Aligner
Depending on the complexity of the case, the patient is made 10 to 40 aligners. One aligner is worn for 2 weeks, and then you receive the next one. This continues until the planned result is achieved.
To use Invisalign, you need to rinse it with water and gently put it on your teeth. The device will be set into place. The device does not interfere with the mouth and does not interfere with speech. But it is better to remove it when eating because hard and hot food can cause the plastic to deform.
Care
Due to the soft effect of the mouthpiece, the correction is less painful than with traditional braces. Caring for braces is a daily struggle because they need to be thoroughly cleaned with a special brush.
It's very easy to care for aligners. You only need to wash them with a special remedy or water. Using a toothbrush (soft or medium bristles), clean the surface to remove plaque and food residue. Once a day, it is recommended to place the device in a special disinfectant solution. 5-10 minutes is sufficient.
Refrain from smoking because it spoils the color of the caps. To monitor the progress of treatment, you should visit the dentist every 1 to 1.5 months.
Invisalign recommendations of the Glendale dentist: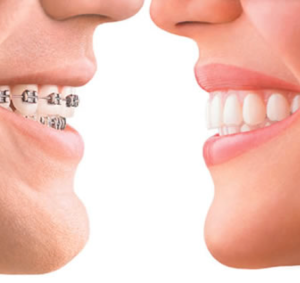 Always remove while eating,

Clean and rinse every day,

Be sure to wear 22 hours a day;

Change the mouthguards every 2 weeks;

Do not miss planned visits to the dentist.
It does not matter how badly the teeth are positioned. If they can be aligned with braces, then they can be fixed with Invisalign too. Virtually any orthodontic task is easily solved with the help of Invisalign.
During the treatment, your teeth will gradually take the correct position. The duration of correction differs in different patients but usually takes from 6 months to one and a half years.
At Smile Makeover of LA, your future smile and your oral health are in good hands.
Invisalign Glendale CA – We are located on the corner of Pacific Ave and Glenoaks Blvd right in the heart of north Glendale. A free cosmetic consultation is available with a simple call. Take advantage of our 0% interest financing and take the step towards a more beautiful smile. Dr. Sahakyan, a Glendale Invisalign dentist, will address your specific cases and recommend the ideal solution for you. Call 1-818-578-2324 for a consultation today.