Dental Hygiene and Periodontics Glendale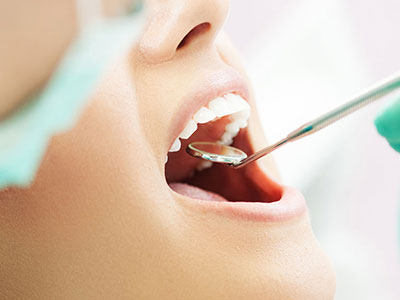 Periodontitis is a form of gum disease that has been plaguing individuals for countless years. Patients with this condition can either be described as being in one of three stages. There is early periodontitis, moderate periodontitis, and advanced periodontitis. Early periodontitis is where only one tooth is affected, while moderate involves a few teeth and advanced deals with all the teeth. While having periodontitis may seem hopeless, it's not. When you visit us here, we provide the periodontal disease treatment you need to start feeling and looking better than ever.
Gum Disease Treatment
NON-SURGICAL THERAPY
As part of our gum disease treatment, we offer non-surgical therapy to our customers. One particular type of non-surgical therapy you'll find here is root planning. This procedure involves taking out the plaque and tartar that is found deep within the tooth's root surface. We also prescribe antibiotics because we understand that bacteria plays a huge part in gum disease. To kill the bacteria, antibiotics are often the solution. Then, there is splinting. Splinting is where the periodontist takes weak teeth and connects them all to one another. This will help form a stronger single unit which makes chewing much more relaxed and comfortable for the individual with the condition.
SURGICAL THERAPY
However, sometimes surgery is the only option to eliminate gum disease. This is especially true in cases where there is an infection, gum recession or bone damage. One type of surgery performed here is osseous. This is a bone surgery where the shallow craters and defects within the bone are completely smoothed out. This is done in cases where there is often some form of bone loss that occurred. Another type of surgery that we perform is gingivectomy. Gingivectomy is a procedure that's employed when there is too much gum growth surrounding the teeth. When that happens, false pockets will get formed, making it hard to fully clean the teeth.
Periodontist in Glendale, California
It's clear that when you need a Glendale periodontist, we are the people you must turn to. Here at Dr. Gurgen (George) Sahakyan's practice, we have the experience and expertise you need to leave you winning your battle with gum disease. We have your best interest in mind, which is why you can count on our treatment plans to achieve real results. With us in your corner, you can rest assured that you are getting attentive care. Here, you will never feel brushed off. We care about you and we have the knowledge to back up our procedures. Do not waste your time when you need to treat gum disease, instead get in touch with this periodontist in Glendale CA.