Orthodontist Glendale
Orthodontic dentistry is a dental specialization that deals with problems of tooth alignment and bite problems. In traditional dentistry, the goal is to straighten teeth to create a visibly attractive smile.
Dr. Sahakyan feels that this view of orthodontic dentistry is not enough and that approach can lead to further dental and health-related problems. Rather than just limiting orthodontic treatment to teeth straightening, Dr. Sahakyan's approach is a practice known as Functional Orthodontics. Functional Orthodontics is usually accomplished in two phases: The first phase is to ensure the muscles and nerves are in a stable and healthy position utilizing a variety of techniques and then Phase II includes teeth moved to a position where all structures are in harmony.
The Problem of Malocclusion
The violations of a bite or malocclusions are a problem for not only aesthetic but also for medical procedures. At a minimum, it is very difficult to carry out usual hygiene procedures. This can cause cavities and other dental problems. In addition, an incorrect bite can provoke abnormalities in the work of the respiratory system, impaired functionality, problems with diction and so on.
If the anomalies of the maxillofacial system are not treated, they can eventually lead to the development of multiple cavities and periodontal diseases. Further, it completes the destruction and loss of teeth. Timely correction of the bite will save you from problems in the future.
In order to avoid those complications, it is recommended that a course of orthodontic treatment be performed in a timely manner.
If violations of the bite are not treated, they can lead to unpleasant consequences:
"Grinding" and rapid wear of teeth due to unevenly distributed load;
Not an aesthetic smile with such pathologies of the dentition, when the front teeth are deformed and wrongly located;
Deformation of the face oval.
The Causes of Dentoalveolar Anomalies
Most dentoalveolar anomalies are inherited, but some have acquired character. Genetically related problems include crowding, gaps between teeth, superfine teeth, lack of teeth rudiments, a mismatch in tooth and denticle size, jaws and proportions of the facial skeleton, as well as a large number of other anomalies.
Acquired pathologies can develop as a result of trauma (accidents), bad habits (sucking fingers or nipples), upper airway obstruction (enlarged tonsils and adenoids), carious lesions (early removal of milk teeth) and other causes.
Possibilities of Orthodontic Dentistry
Glendale Orthodontic dentistry today offers a variety of treatment options, including:
Bite correction, including lingual;

Correction of a bite by installing dental plates;

Wearing orthodontic retainers;

Use of trainers and cap;

Surgeries to correct bite.
Orthodontic Treatment Glendale
The process of treatment in orthodontics is characterized by duration, requires patience and strict adherence to the recommendations of the orthodontist. The course of orthodontic treatment consists of active and retentive stages. During the active period in orthodontics, the existing abnormality is eliminated. In the process of retention, the result is fixed and a stable remission is achieved after removal of the apparatus.
At what age can I perform an orthodontic treatment?  
Orthodontic treatment can be performed in children and adults since healthy teeth can be moved at almost any age. Since the control of growth and development is critical in the treatment of certain pathologies, it is necessary to conduct an examination for the presence of an orthodontic problem of all children, no later than 7 years of age. Some pathologies of the bite are easier to fix if the treatment is started at an early age. In the interchangeable bite, when not all teeth have changed, treatment can be more successful in dealing with some particularly complex anomalies.
Stages of Orthodontic Treatment
Regardless of the chosen treatment strategy with the Glendale dentist, it includes several stages:
Diagnostic stage;

Preparatory stage;

Main treatment stage;

Retentional stage.
First, the diagnosis is performed, after which the method of treatment is chosen and its plan is drawn up.
At the preparatory stage, orthodontic designs for correction of occlusion are made on an individual basis and their fitting is performed.
The main treatment stage involves wearing orthodontic structures under the periodic supervision of an orthodontist.
During such receptions correction of orthodontic devices can be carried out, if there is such a necessity. Finally, the retention period is aimed at fixing the results of the treatment.
Duration of Orthodontic Treatment
The active treatment period with the help of orthodontic devices can last from several months to three years. Sometimes treatment is shown in two stages: in a replaceable bite and permanent.
Orthodontic Devices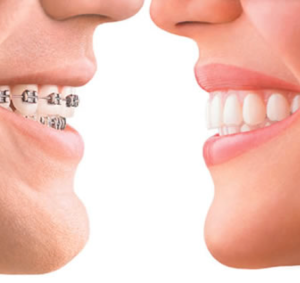 Orthodontic treatment is carried out using devices that are classified as:
Removable devices include all kinds of plates and kappa devices. These devices the patients can remove and wear on their teeth. In most cases, they are used in children in a replaceable bite.
The most common and progressive type of non-removable equipment in orthodontics is the braces. Non-removable means devices that are fixed on the teeth for a long time by a dentist and only on permanent teeth. Through active elements of the devices, a weak acting force is transmitted to the teeth, which leads to the movement of the teeth.
Each patient, depending on age, is offered certain types of non-removable braces design. Braces are strengthened in the oral cavity for the entire duration of treatment and are activated by the orthodontist at the reception.
Fixation of braces is carried out by modern materials. During treatment, you will receive recommendations on the rules of use, methods, and means of care for braces.
A qualified orthodontist will correctly select the necessary devices, according to the age of the patient and the pathology to be treated.
Types of Braces
Braces are divided into metal and aesthetic and can be fixed on the outer or inner (lingual) surfaces of the teeth. Metal braces are made of special biocompatible alloys, and there are also hypoallergenic braces without nickel.                             
Also, the braces have a different prescription (preset parameters), on which the movement of the tooth depends. The orthodontist knows these data, whos one of the main tasks is the correct selection of the device. The orthodontic device is individually selected for each patient to obtain the optimal result of treatment.
Glendale Consultation for Braces
For those wanting the smile of their dreams, the first step is an orthodontic consultation. During this meeting, the doctor will do an evaluation of the patient's current condition to determine what procedures are possible. Known as a very caring and knowledgeable Dentist in Glendale CA, Dr. Sahakyan is always able to provide his patients with the highest level of orthodontic care while also explaining everything in a positive yet practical way. His sister Astghik, also an orthodontist Glendale CA can be proud to have, specializes in pediatric dentistry and loves working with children to put them at ease for their procedures. Loved by her patients, she understands the special needs of children as the mother of a two-year old herself.
When people need an orthodontist in Glendale CA they can rely on and trust, the Sahakyan's at Smile Makeover of LA provide the expertise, knowledge and care needed to make any patient's experience a pleasant and satisfying one. When patients walk through the doors of Smile Makeover of LA, dreams do come true.
Braces Glendale CA – Smile Makeover of LA welcomes you to a free consultation with Dr. Sahakyan. At our office you're more than patient looking for braces, you're part of family. You deserve the best smile and Dr. Sahakyan has years of experience to deliver that beautiful smile and pure joy of having straight teeth and clean dental hygiene. Servicing patients from Glendale, La Cresenta, Montrose, and La Canada, California. Dr. Sahakyan is your orthodontic doctor providing braces for adults, teens and children.
After Orthodontic Treatment
After orthodontic treatment, you should limit the use of hard, crunchy, sticky products such as caramel, chewing gum, popcorn, very hard foods (drying), ice, etc. Those items can lead to damage to the device and a significant increase in the duration of treatment.
The maintenance of teeth and orthodontic devices in the purity during treatment is of great importance and is necessary for obtaining a good result of treatment. Proper care for your teeth at home does not preclude a visit to the Glendale dentist for professional hygiene care at least twice a year.
Nothing makes a better first impression than a bright smile. Having a smile you can be proud of helps increase self-confidence, in addition to being very healthy. From teeth whitening to traditional metal braces to newer innovations such as Invisalign, advances in dentistry have made it possible to have procedures done to give everyone a smile they can be proud of. When folks in Southern California need the best dentists to care for their teeth, the only choice is Smile Makeover of LA. Doctors Gurgen (George) Sahakyan and his sister Astghik (Stella) Sahakyan are skilled in all the latest dental procedures, and are more than ready to give their patients a winning smile.
For those needing an orthodontist in Glendale CA this brother and sister team is ready to tackle any challenge a patient's mouth can throw at them. Using the latest technology in addition to attending numerous training sessions, this Glendale orthodontist duo offers a wide range of services including dental implants, root canals, dentures, oral surgery as well as traditional orthodontics. When patients need an orthodontist Glendale CA has many from which to choose, but none who display the level of caring and expertise as the Sahakyan's do with their patients.
If you need to know more about orthodontic treatment, please call 1-818-578-2324 for a consultation now.