Nitrous Oxide Glendale
Nitrous Oxide is a breathable gas typically used in sedation dentistry. They are commonly referred to as laughing gas. It is a mild sedative that can be delivered through a nose hood and is in use throughout the entire dental procedure.
Nitrous Oxide has been the primary agent of sedation in dentistry for many years. Nitrous oxide is a safe and effective conscious sedation technique for both adults and children. It helps patients feel relaxed. It is a colorless, non-irritating, sweet smelling, gas which is inhaled. It does not cause allergies and addictions. Nitrous oxide quickly penetrates into the blood and is rapidly excreted. You are able to breathe on your own and remain in control of all bodily functions. These properties of nitrous oxide are advertised by many dental offices, offering this medication for sedation in pediatric dentistry.
What is Nitrous Oxide?
Nitrous oxide is a colorless and an odorless gas. Nitrous oxide or "laughing gas" is a gas mixture of nitric oxide (N2O) and oxygen (O2). The patient receives 50-70 percent oxygen with no less than 30 percent nitrous oxide. As a form of conscious sedation, it is fed through the nasal mask. When you inhale this mixture, it acts as a sedative.
The inhalation of nitrous oxide can calm you, improve your mood, and bring you into a joyful and easy state. That's why people call nitrous oxide "laughing gas". You begin to feel good and stop worrying about the dental procedure that you or your child need to undergo. It really cheers you, while giving you an opportunity to behave adequately and fulfill the requests of the Glendale dentist.
What Will You Feel under Nitrous Oxide Sedation?
During the treatment you are conscious. You will feel a light fragrance of your choice and feel relaxed throughout the body. Under the influence of the gas mixture, the threshold of pain sensitivity increases and it even seems that the time runs faster. While under the effects of nitrous oxide, patients experience an elevated general mood and have a higher sense of well-being.  In addition, it relieves anxiety and reduces any pain experienced during a treatment. Patients may experience some tingling and numbness, as well as a few side effects. During the procedure, you will still be responsive to questions and commands. The difference is that you will feel happier and have a higher state of well-being.  No anxiety of any kind will be experienced while treatment is progressing. For one visit, more manipulations are possible to perform with Nitrous Oxide Sedation than without it.
Indications for Nitrous Oxide Sedation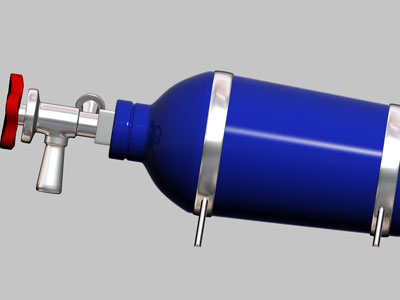 Obstreperous, anxious, fearful patient
Patients with special health care needs
A patient for whom profound local anesthesia cannot be received
The child is undergoing a prolonged dental procedure.
Benefits of Nitrous Oxide Sedation
Fit for adults and children;
Easy to administer;
The laughing gas starts to work very quickly;
The ability to change the depth of sedation in the process of treatment. Both increasing and decreasing it result in the instantaneous change;
Recovery is fast;
There is a wide margin of safety;
The absence of the hangover effect: the gas is eliminated from the body a few minutes after the mask is removed;
With some gum procedures, nitrous oxide can be used instead of local anesthesia;
Titration is possible;
Vomiting and nausea are uncommon;
No preparation of the patient is needed;
No need for an escort;
Reflex integrity is saved;
It is safe for children;
There are no side effects to your lungs, heart or other organs.
The Essence of the Nitrous Oxide Sedation Procedure
Before the treatment of the teeth, a patient is supplied oxygen through a special apparatus to which nitrogen is gradually added. Its concentration is regulated individually, the optimal is 30%, and the maximum is 50%. Sedation comes almost instantly.
Firstly, you feel a sweet pleasant aroma and feel calm and relaxed. If you are afraid of the smells and sounds of dental office, you will be calmer if you use nitrous oxide. When all the necessary procedures have been carried out, the nitrogen concentration is gradually reduced, and oxygen is increased to 100%. Oxygen neutralizes nitrogen, and sedation passes away.
After inhalations, you can safely engage in any business and even drive a car. Safety of Nitrous Oxide sedation in Glendale is very high because it is even used for the treatment of children.
Unlike IV or oral conscious sedation, nitrous oxide wears off within 5-10 minutes after being administered. You may not need to have an escort and you will be able to drive home on your own.
How Safe Is Nitrous Oxide Sedation?
It is safe for children and adults of any age. Nitrous oxide-oxygen is perhaps the safest sedative. There is no addiction to it. It does not have too much effect, it is easy to apply, it is easily excreted from the body. You remain in full consciousness, save all the natural reflexes. During the Nitrous Oxide sedation you breathe normally and naturally.
Preparing for Nitrous Oxide Sedation
The first and most important stage of preparation for admission is not to eat two hours before the start of the appointment with the dentist (some people have nausea and vomiting for a full stomach).
Secondly, inform your dentist about any respiratory infections that can prevent you from breathing through the mask and reduce the effectiveness of the drug.
Thirdly, inform the dentist about medications taken on the day of admission.
The Efficiency of Nitrous Oxide Sedation at Smile Makeover of LA
Nitrous oxide remains a popular choice for numerous patients. If you experience dental phobia and need important dental treatments, please contact Smile Makeover of LA to restore and renew your smile.
Glendale dentist Dr. Sahakyan is committed to helping you have a comfortable, enjoyable dental experience. He always looks for individual approaches to each patient. And, of course, he chooses exactly the method of treatment that is most suitable in each specific case.
Dr. Sahakyan will study your medical history, the degree of anxiety and the amount of dental intervention and will tell you about the necessity of using nitrous oxide in treatment. If you have any questions about nitrous oxide sedation in Glendale, please call 1-818-578-2324 or contact our dental office today.