Glendale Dental Implants
When it comes to restorative procedures, a dental implant is one of many methods used to enhance the appearance and overall function of your teeth. These implants are used to hold artificial or replacement teeth, and the procedure is usually performed on those who have lost teeth to an injury, infection, or periodontal disease.
What is a dental implant?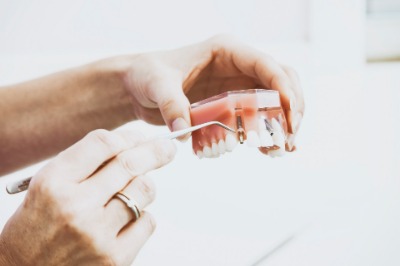 A dental implant is a metal post that is inserted into the jawbone, beneath the gums, to hold a replacement tooth or a bridge of artificial teeth. These implants are used when you want to have a fully-functional replacement tooth. There are two different kinds of dental implants.
The first, an endosteal implant, means that the implant is "within the bone." It is the more common type of implant and requires cylinders and screws to be held in place in the jawbone. An implant dentist in Glendale usually uses an endosteal implant for patients who need removable dentures or a bridge.
Unlike an endosteal implant, a subperiosteal implant is placed over the jaw, below the gum tissue, and comes through the gums to hold the artificial tooth or teeth. The frame of the implant eventually becomes fixed to the jawbone, and then the artificial teeth are mounted onto the implant posts.
Either type of implant can hold a single tooth or several replacement teeth. When more than one replacement tooth is needed, two fixtures are added within the gums, and crowns are attached to the surrounding natural teeth to hold it all together. Another option for multiple teeth replacement is to add four implants to the upper or lower set of teeth, which gives the oral surgeon a chance to attach a full arch of artificial teeth. With a single implant, only one rod is needed, and the tooth is then mounted on to become your brand-new, fully-functional replacement tooth. These won't affect the surrounding teeth as a bridge does, and they will help restore the natural contours of your jawline. Implants are permanent; unlike bridges, which may need to be replaced after about 10 years and force the healthy, adjacent teeth to be drilled down for crowns.
The Benefits of Dental Implants
With a dental implant procedure, you can be confident that your teeth look uniform without surface stains. Dental implants are less prone to staining and chipping; however, if you ever do find one of your implants has chipped, it can easily be repaired with Smile Makeover of LA.
Dental implants in Glendale are comfortable and can give you the whiter smile you've been trying to achieve. They are a permanent solution that will keep you from having to worry about your tooth decaying or developing cavities throughout the year. In an implant procedure, the tooth root is replaced, which will also help stop jawbone loss. This will help restore your confidence with simple, everyday activities like smiling, speaking, and even eating.
Choosing Smile Makeover of Los Angeles
If you would like to enhance your smile with single or multiple dental implants, Smile Makeover of LA is the right place for you. The practice offers a free dental implant consultation with the oral surgeon to help determine which procedure is best for you and your teeth. Even if you aren't sure if dental implants in Glendale CA are the route you'd like to take to restore a confident smile, Smile Makeover of LA will counsel you to find the best restorative dental procedure for your teeth. The office also provides great follow-up care after our dental implant procedures and will show you how to properly care for your new artificial teeth with brushing and flossing techniques.
Schedule a free consultation today with an implant dentist in Glendale CA to learn more about the benefits of a single or multiple dental implant procedure.