Crooked teeth, misaligned teeth, and gaps between teeth are common dental problems that we all face. Thanks to orthodontic advancement and dental braces, we can overcome these issues. Moreover, dental braces not only enhance the cosmetic look and make our smile perfect, but they also protect oral health. Now, if you are planning to wear Glendale dental braces to fix your dental issues like teeth misalignment, then you must visit an orthodontic expert. A dentist can check the condition of your teeth and gum and tell you what you exactly need.
You can reach us at Smile Makeover of L.A. and consult our dentist in Glendale for the best dental support. In addition, you can visit our website https://smilemakeoverofla.com for detailed information.
Why Do We Use Dental Braces?
Braces push the teeth to align them properly and make them straighter. Braces contain metal wires, brackets, and elastics. For the desired result, one must wear braces 24 hours a day and 7 days a week. Now, the patient can't remove the braces during the treatment. Furthermore, braces are comparatively cheaper than other similar dental restoration processes like Invisalign.
4 Essential Things to Know Before Getting Dental Braces:
1. Braces Are for All Ages
There is a misconception that braces work better for kids. The fact is they can work for all ages. Any person can opt for dental treatment that needs braces as a tool. The gums and overall oral health condition must be in good shape.
2. How to Take Care of Your Teeth While You Wear Braces
If you wear braces, you should eat a light and healthy diet only. You must use a soft toothbrush to clean stuck food particles inside the gaps of your teeth. In addition, you can use warm salt water as well to clean your mouth. Protect your teeth with a customized guard if you participate in any sports activity. It will be better if you properly clean your teeth every time you have your meals or eat something. Avoid consuming alcohol and smoking.
3. How Long Does It Take to Complete the Dental Restoration Process through Braces?
Dental braces (traditional) can take two to three years to treat crooked or misaligned teeth. It also depends on oral health and other complications. Generally, for children, it takes a bit lesser time than treating the elders. As mentioned earlier, a patient cannot get rid of the braces until and unless the treatment is completely over.
4. Braces Are Important for Both Cosmetic Enhancement and Structural Improvement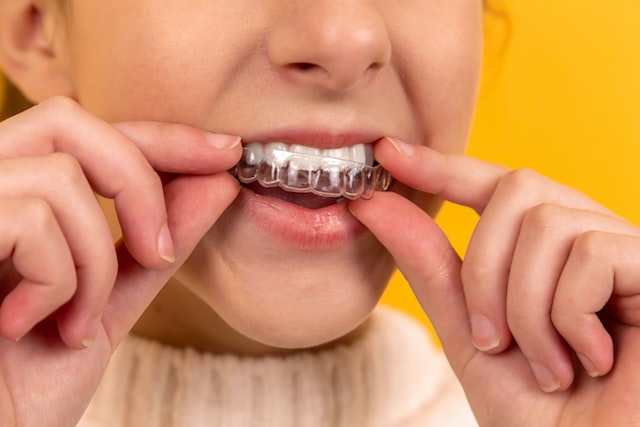 Again, as discussed, we can get back or have a bright and pleasant smile through orthodontic treatment and wearing braces. This will meet our aesthetic requirements as it enhances our look and personality. On the other hand, braces help reduce dental gaps and protect our teeth from bacteria, plaques, or any other infections.
Besides, one must visit a dentist regularly for routine checkups to prevent tooth decay and other damage. Hence, you can consult our Glendale dentist at Smile Makeover of L.A. for all dental problems that you have. You need to book an appointment in advance so that we can assure a slot for you.
How Can We Help You at Smile Makeover?
Here at our center, we take care of our patients keeping their requirements in mind. We understand their mental agony and support them with all the advanced dental technology and medication procedures. We never fail to satisfy our patients and give them the best orthodontic treatment they deserve.
Just call us at 818-578-2334 for a prior appointment. We guarantee you the best medication process and experience.